Software Development Templates – MS Word/Excel
Save yourself time and money by downloading over 570 pages of MS Word Software Development Templates. Download 60 Software Development Templates, Forms, and Checklists (MS Word, Excel, Visio) for technical writers, software developers, and software testers who need to write guides, plans, tutorials, and other forms of technical documentation.
Save time and money by downloading these 60 SDLC templates today. Our bestselling product includes including 192 MS Word, 95 MS Excel, and 5 MS Visio templates. Ideal way to help software developers, software testers, and technical writers prepare professional looking technical documentation during the software development lifecycle. Each template includes sample guidelines, tips, and direction on how to write each document.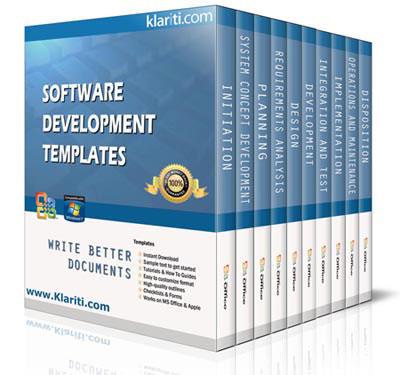 Download Now for only $197.99!
Click here to view sample templates
What file formats are they?
The file formats are. docx and .xlsx.
Can I download them online?
You, can download the files instantly. After you make the payment, you are automatically sent to a Download page from where you can save the templates to your PC. 
What is the license agreement?
You can change any part of the templates that you wish.
You can remove all logos and references to Klariti.com, for example, the logo on the cover page.
You can share the templates with your colleagues and re-use them as you need.
The main restriction is that you cannot sell, rent or license these templates.
These templates are for you — and your colleagues — usage only.
You can read the full license Agreement here
What is the refund policy?
We offer a 60 days refund policy.
Can I ask you a question?
Of course. You can contact me at [email protected]