NEW: REST/Web API Documentation Template – MS Word
Need to write your first API document but don't know where to start? API Template MS Word – Use this 28-page MS Word template to document your REST/Web APIs. This template pack includes detailed examples, guidelines, and screenshots. API Writing Tutorial – It also includes a 16 page How to Write API Document tutorial that explains how to write each section in your API reference documentation. Click here for the details 

Software Development Templates
Looking for Software Development Templates that will save you time and money? These 30 templates will help your team write faster, save time, and complete documents ahead of schedule. You get over 570 pages of MS Word documents with instructions, sample text, charts, tables, MS Excel checklists, and MS Visio flowcharts.
Use these templates to ensure your technical documents have a professional, consistent look when delivered to clients.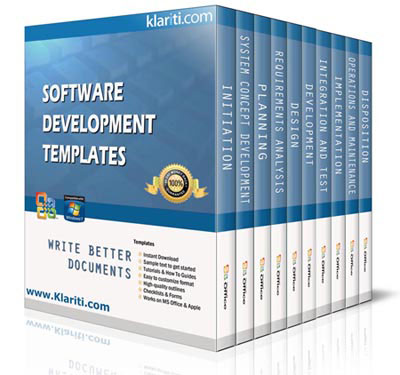 These templates will help your team start writing immediately. It includes:
Over 570 pages of MS Word documents
How-to instructions for writing guides
Sample text, charts and tables
Free Visio, Excel & Word samples
and saves time formatting and creating templates

Click here to see what's included in this SDLC template kit
Use these templates to help your Developers, Software Testers and Technical Writers write Database Designs, Risk Management, Deployment Guides, Setup Guides, Statement of Work, Capacity Plans, Feasibility Studies, Functional Requirements, Change Management, Configuration Management and many other guides.
Includes free Requirements Traceability Matrix, Data Dictionary and Excel spreadsheets.
Customers
Since 1998, our partner Klariti.com has provided products and services to companies such as:
Endorsements
"…when I first ordered, I have to admit that I was skeptical as to the final results, but am pleased to report that I am 200% satisfied with your service and quick responses. I will use this service in the future and recommend it to many others."
Brad Porter
"Ivan,
Thank you for going the extra mile and making it work in my "outdated" Excel program! If you need a testimonial for your website, I'll gladly write one up. I so appreciate your kindness, persistence and patience."
Suzanne, Virginia
"I have now purchased 3 different documents. They are very simple to understand, well laid out and very well written. Thank you for saving me weeks, if not months of frustration."
Dan Faubion, Advnt Biotechnologies, Phoenix, Arizona 85027
"Thank you for your prompt response. If you would like to have a reference, you can quote me. 'Top professional templates and excellent customer service'"
Regards, Frederick Tsang
"Hi Ivan, thank you so much. I am blown away with the promptness of your response. I didn't expect to hear from you so soon. Thanks again."
Kathy
"Thanks Ivan. Rare to find such service online. Really appreciate it."
Regards, Prema
"Thanks for the quick response. The documents meet my business need beautifully."
Regards, Leonard
"I'd just like to compliment, how much I really like the quality of your work (the frameworks are very structured and clear) and it is very convenient to use as well. Once again, thank you so much."
Regards, Cherry, Australia
"Kudos to you for going the extra steps for me read your files and be able to utilize them."
Sincerely A Happy Customer!
Jacqueline
Read more customer testimonials here.
MS Office Compatible
These templates work on all versions of MS Word and Excel.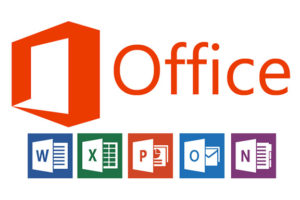 Apple iWork
If you use Apple iWork, you'll love our Pages and Number templates. We created them from scratch to work on all versions of iWork by ensuring that the styles were correctly formatted, and display correctly on the print, web, and mobile devices. Download Apple iWork templates.